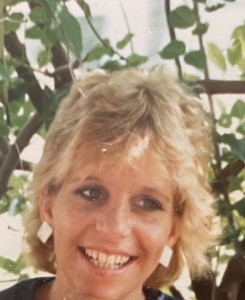 Cindy Ann Abbott passed away unexpectedly in her home on April 25, 2022 at the age of 60. Cindy was born on September 25, 1961 in Lawton, Oklahoma on Fort Sill Army Base. Cindy fiercely loved her family. She enjoyed decorating, shopping, planting flowers, and spending time with her family at the beach.
She was preceded in death by her parents, Wilbur and Mary Foughty. Left to cherish Cindy's memory are her children Eric, Ashley, and Brannon, son-in-law Mike, and daughter-in-law Christa; Grandchildren Rayne, Keyton, Alec, Micah, and Isla; Her children's father, Clay Abbott; Siblings Connie, Clayton and wife Rebecca, John and wife Pam, Sherry, Kimberly and husband Raul; and numerous inherited children over the years.
Cindy never met a stranger. She was loving and compassionate. Cindy was a free spirit who had a great love of music that she shared with her children. Cindy's final wish was to be one with the ocean, which her children will honor in her memory.
A Memorial Service will be held on Tuesday, May 3, 2022, to begin at 10:00am - at Boren-Conner Funeral Home in Bullard.