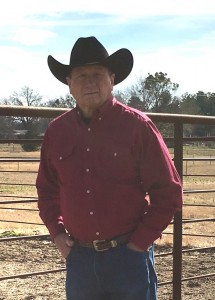 Relatives and friends of James "Jimmy" Corbin are invited to attend a memorial service, visitation and lunch at Rosewood Baptist Church on Sunday, April 24, 2022. The memorial will begin at 1:30 PM followed by visitation and a meal in the Rosewood Fellowship Hall. We would love to hear your memories and stories of James Corbin as a church member, community member and friend.
James Roy Corbin was born in Hillsboro, Texas on August 27, 1944. He passed away on April 7, 2022. He was the son of the late Maurice Corbin and Clara Faye Gandy. He was proceeded in death by his brother,Gerald Ray Corbin. He is survived by his wife, Cheryl Ann Barnard Corbin, son Danny Lynn Corbin and wife Toni, daughter Rhonda Michelle Corbin Rodriguez and husband Arthur, daughter Kimberly Diane Corbin Costello and husband Jason, 4 granddaughters, Veronica Rodriguez Vermillion and husband Gene, Kylie Corbin, Courtney Corbin and Chloe Costello, 6 grandsons, Coby Corbin, Cooper Corbin and wife Melani, Colt Corbin and Corbin, Christian and Chase Rodriguez, 2 great granddaughters Kenadi and Kinsley Corbin, 1 great grandson Cashton Corbin, and sisters, LaJuan Hickey and Valda Carlson and many nieces and nephews.
James grew up in Abbott, Texas, and met his wife, Cheryl, at their favorite skiing spot at Lake Whitney.They met when James' boat motor fell off, and he had to prematurely dock. It wasn't the last time he had problems with the motor on that boat, but it was the best one because he met the love of his life, Cheryl, at the boat dock that day. They were married November 22, 1967, and celebrated their 54th wedding anniversary in November 2021. Their mutual love for the lake led to many years of family vacations camping, swimming, tubing and learning to water ski.
After high school graduation in 1963, James joined the Army National Guard where he was assigned to the 72nd Infantry Brigade. His unit asked for volunteers to cook so James and a buddy volunteered. This skill would later serve his family, community, and church very well. After boot camp, he started working at LTV in Grand Prairie. He and Cheryl moved to Longview in 1969 after he was transferred there by LTV. In the early 1970's, he began working for Texas Utilities until he established Corbin Plumbing in Gilmer, TX in 1974. James and Cheryl settled in the Latch community in the early 1970's where James built the house they made a home for the past 48 years. Cheryl proudly shared that James had a lot of good customers, and he enjoyed visiting with people in the community and telling stories. He was a master storyteller and loved to make people laugh by telling jokes or pulling fun pranks. He retired from Corbin Plumbing at the age of 62. In retirement, he enjoyed traveling on his motorcycle. He had a deep appreciation for God's handiwork as he traveled throughout the countryside.
He volunteered many hours to church and community events throughout the years and served as a School Board Member of Harmony Independent School District, President of the Harmony H-Club, Boardmember of the Pritchett Water Supply Corporation, President of the Elwood Lake Corporation and was a member of the Wood County Cowboy Church. He was also a member of the East Texas Patriot Guard where he helped raise funds for Help On The Homefront (HOTH) fund in addition to honoring the passing of active-duty military members and veterans.
As mentioned above, James' family, community and church would benefit from his gift of cooking which he learned during his service in the Army National Guard. He frequently provided meals for family gatherings, community and church events and those sick, suffering from a lost loved one or otherwise in need. He often shared the fish he cleaned, cut, and prepared from his many fishing trips and 5-gallonbuckets full of vegetables from his gardens. His giving spirit is known only by the countless number of grateful recipients who have shared stories of his generosity.
James loved spending time with his family. He and Cheryl traveled many miles together to watch countless football, basketball, baseball and soccer games, theater shows, grandparent days, concerts,baptisms, birthday celebrations, rodeos, livestock shows, and other school, church, and community events. He left a legacy of being present, being a helper and being a good father, good provider, and friend. He lived his life with passion and a love for others.
James was riding his motorcycle with the East Texas Patriot Guard to honor a military veteran the daythat led to his passing. He will be deeply missed by his friends and family, but they have peace in knowing he is made perfect now in the presence of his Lord and Savior, Jesus Christ.
In Lieu of flowers, please consider a donation to one of the following organizations:
East Texas Patriot Guard (ETPG): Designate for HELP ON THE HOMEFRONT (HOTH) Fund: - P.O Box 132593, Tyler, Texas 75713-2593. Donations can also be made in person the day of the memorial service.
Wood County Cowboy Church Youth Fund: Mail donations to: W3C3435 FM 2088, Quitman, TX 75783: Designate "Youth Fund" in the memo line of the check.Online donations for W3C Youth Fund can also be made: https://onrealm.org/W3CInc/-/form/give/now and choose "Restricted Youth" from the drop-down menu. Donations can also be made in person the day of the memorial service.