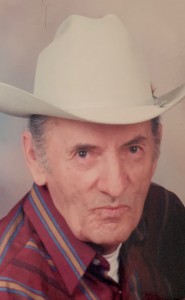 Marshall "Calvin" Freeman, age 91, was born Oct 02, 1930 in Noonday, Texas to Corbin and Lela Ann Jones Freeman. He passed away peacefully on April 28, 2022, in Tyler, Texas.
Calvin greatly enjoyed fishing, hunting and being in the outdoors. He was employed doing what he loved to do by Texas A&M University in wildlife management until his retirement.
Calvin graduated from John Tyler High School. He was smart and was double promoted while in school. Calvin was a great story teller and Bobby, a nephew, especially liked to sit close to Calvin at family meals so he could hear his tales. A cute story about Calvin was when he was in the first grade, the family and guest were around the dinner table eating. Calvin was proud of what he was learning and announced to everyone that he could spell pies. "Piss".
Calvin was preceded in death by his parents Corbin and Lela Freeman, his beloved wife Rose Robinson Freeman, brothers James Freeman, Gerald Freeman and Dwight Freeman, sons Calvin (Stinko) Buckner and Jimmy Don Monasco.
Calvin is survived by daughters Carol Tillery, Bobbie Jean Burks, Ann Severn, sons Richard Buckner and Nolan Buckner, sister Marion Freeman Steel, brother Roger Freeman, sister Priscilla Freeman Adair and many grandchildren, nieces and nephews.
In Calvin's final days he was gently cared for by Hospice of East Texas.
Graveside services will be on Wednesday, May 4, 2022 at 11:00 AM with visitation at 10:30 prior to the service in Noonday Cemetery.
Calvin, we love and miss you.
We are grateful to Hospice of East Texas for the excellent care they gave Calvin.
In lieu of flowers donations may be made to Hospice of East Texas, 4111 University Blvd., Tyler, Texas, 75701.